The Remarkable Trees of Virginia and Washington, D.C. Project
Nancy Ross Hugo and Dr. Jeffrey Kirwan
Project Coordinators
The Remarkable Trees of Virginia Project was a four-year effort to document the states' largest, oldest, most historic, beautiful and beloved trees. Citizens of all ages nominated over 1,000 trees to our project website, and over 100 were featured in the book, Remarkable Trees of Virginia.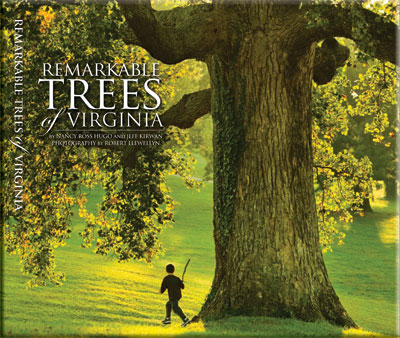 The response to our book has been overwhelming! We are now in our fourth printing, and we were recently asked to include Washington, D.C. in our database. Thank you so much for all of the positive comments and suggestions.
Please continue to nominate trees and visit the website to see the inspiring words and pictures submitted by our nominators.
The following trees featured in the book have died since publication:
Tulip-poplar at Monticello
Tricycle tree in Ashland
Shagbark hickory in Lee County
Sassafras in Lee County
Baldcypress at Cypress Bridge is dead but still standing
Yellowwood at Kenmore in Fredericksburg
The Remarkable Trees of Virginia Project seeks to increase understanding and appreciation of Virginia 's tree resources by involving citizens in a search for Virginia 's most notable trees. Project coordinators Dr. Jeffry Kirwan and Nancy Ross Hugo, who have worked together previously on Virginia Forests ' Champion Tree program, invite children, adults, professional tree experts and amateur tree lovers to participate in the Project by nominating trees remarkable for their historic, cultural, ecological, or aesthetic significance. From among those nominations, approximately 100 will be selected and featured in Remarkable Trees of Virginia , a fine-art book that will be illustrated by Charlottesville photographer Robert Llewellyn and published in 2008.
Response to the Project publicity and its solicitation of tree nominations has been overwhelming. Newspapers all over Virginia and as far away as Georgia have picked up descriptions of the Project and many have featured individual trees and their nominators. In response to one flurry of publicity, this website received 1,000 unique visitors in a single day! Nominations also continue to pour in, and Project coordinators have been impressed not only with the variety of nominations received (from a sycamore grown from a seed taken to the moon to a beech under which NASCAR legends Glen and Leonard Woods serviced their cars) but also with the care with which they have been prepared. Take time to peruse the nominations made on the website's "View All Trees Nominated" link, because there you will find not only some of the finest tree specimens across the state but also trees beloved for unusual reasons and praised in unusual ways. Search the tree nominations for white oaks alone, and you would find nominations from people in over twenty cities and counties who have nominated, among other trees, a tree famous for "being the lone friend of a slave girl," a tree beloved by office workers in a business park, a tree under which Stonewall Jackson prayed, and a tree "with the potential for 40 to 50 cords of firewood"!
The Project is finding links between trees and people that are stronger and more interesting than Project organizers ever expected, and they invite you to contribute to the process by nominating remarkable trees and/or by becoming a Project sponsor. Here's your chance to celebrate Virginia 's most remarkable trees!
We'd like to thank our sponsors...