FORSite>Contents>The Forest Community
MOIST TEMPERATE CONIFEROUS FOREST BIOME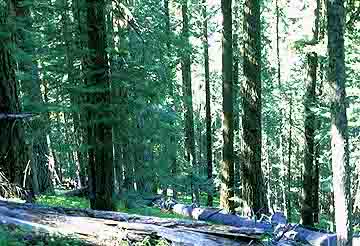 The moist temperate coniferous forest of the Pacific Northwest includes the area from the coastal ranges of northern California (below 5000 ft. elevation) to the southern coast of Alaska (below 2000 ft.). Because of its proximity to the Pacific Ocean, the climate is mild and without temperature extremes. Precipitation varies from 50 inches per year in the southern portion of the biome, where relatively dry summers prevail, to 200 inches on the mountain slopes of Washington and southern British Columbia.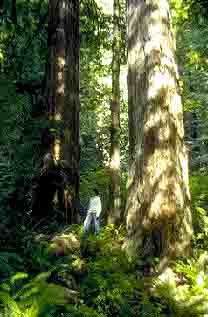 The fogbelt, comprising the southern part of the biome from San Francisco to southern Oregon, is dominated by redwoods (Sequoia sempervirens). Stands are situated on moist river flats and in sheltered valleys, where evapotranspirational losses are minimized. New and higher roots are produced in reaction to continued deposition of alluvial material at the bases of the tall trunks, which often surpass 250 feet in height. The thick bark, which affords protection against insects, pathogens, and fire, is thought to contribute to the great longevity (1,000-2,000 years) of individuals.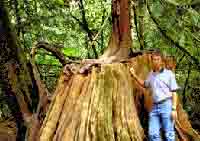 To the north of the redwoods in Oregon and southern Washington, where the soil is well drained and
precipitation is slightly lower, grow extensive,
pure stands of the subclimax species,
Douglas-fir (Pseudotsuga menziesii). On the Olympic Peninsula, where it reaches its maximum development
(often approach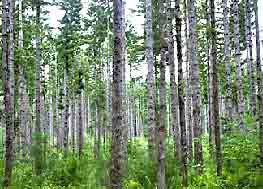 ing 10 feet in diameter and 300 feet
in height), Douglas-fir is found in association with Sitka spruce (Picea sitchensis), western redcedar (Thuja plicata), and western hemlock (Tsuga heterophylla). In the south it mixes with sugar pine (Pinus lambertiana), incense cedar (Libocedrus docurrens), and ponderosa pine (Pinus ponderosa).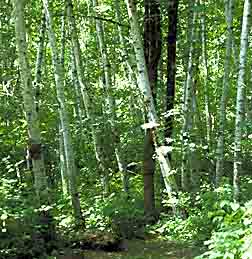 The sandy and gravelly soils along rivers and streams of this biome are frequently lined with narrow groves of red alder (Alnus rubra), black cottonwood (Populus trichocarpa), and bigleaf maple (Acer macrophyllum). Both bigleaf maple and red alder (a nitrogen fixer) are also pioneer tree species on recently burned and heavily logged areas in the region.
Northward in the Puget Sound area (and in particular the Olympic Penins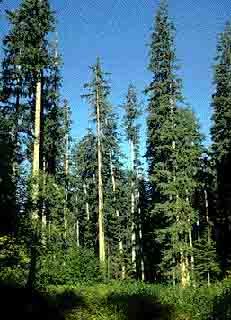 ula), a climax forest of western hemlock, western redcedar, and Pacific silver fir (Abies amabilis) dominates the landscape. Sitka spruce, Alaska-cedar (Chamaecyparis nootkatensis), and mountain hemlock (Tsuga mertensiana) are common associates. At higher altitudes, these species are joined by grand fir (A. grandis), and on drier sites by Douglas-fir. The dense canopy of these forests precludes the growth of all but a few species in the herb and shrub layers where cover is sparse. Due to the prevailing moisture-laden winds, there is a partial extension of this forest association into the western slopes of the Rocky Mountains in Idaho and British Columbia. Western larch (Larix occidentalis) and western white pine (Pinus monticola) are important successional species in this eastern extension.